Dividends Rose 14.64% in Q3
Dividends had another good quarter for Q3. The S&P 500 paid out 14.64% more in dividends than in last year's Q3.
So far, dividends are running 14.14% ahead of last year's pace. Q4, however, will be a tough comp because of the rush to payout dividends last year ahead of higher taxes. Still, the payout for Q3 of this year nearly topped last year's Q4.
Before we're done, the dividends paid out in 2013 will probably be more than 50% higher than what was paid out in 2010. That's remarkable.
The dividend payout ratio for the last four quarters is now just over 33%. Except for the depths of the financial crisis, that's the highest ratio in more than 10 years. (During the financial crisis, the ratio climbed not due to higher dividends but to plunging earnings.)
I've mentioned this before, but I'm amazed at how steady the market's dividend yield has been over the last decade. It's largely hovered between 1.7% and 2.3%. The yield spiked over 4% during the financial crisis, but settled back near 2%.
Despite the fancy metrics people used, all you needed to do was take the amount of dividends paid out in the last year and multiply by 50. That would have gotten you a very good estimate of where the S&P 500 would be.
Here's a log chart of the S&P 500 (blue line, left scale) along with its dividends (black line, right scale). I scaled the two lines by a log difference of 1.7 which is just over 50. In other words, whenever the lines cross, the dividend yield is 2%.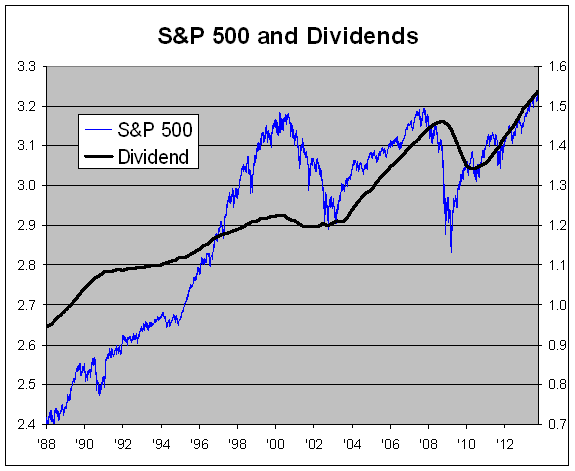 Posted by Eddy Elfenbein on October 1st, 2013 at 3:56 pm
The information in this blog post represents my own opinions and does not contain a recommendation for any particular security or investment. I or my affiliates may hold positions or other interests in securities mentioned in the Blog, please see my Disclaimer page for my full disclaimer.
Archives