Apple's IPO: 34 Years Ago Today
Thirty four years ago today, Apple Computer ($AAPL) went public. Today, the company is officially just Apple Inc. The offering was for $22 per share. Since then, Apple has split four times; three times 2-for-1 and once 7-for-1. That adds up to 56-for-1 which means the $22 offering is 39.3 cents split adjusted.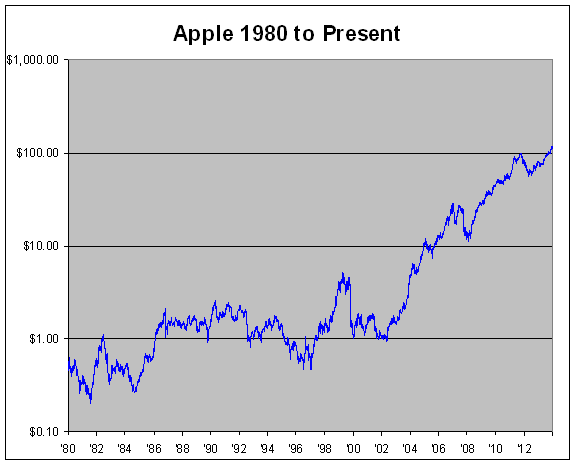 This may sound surprising, but Apple wasn't a hit. By mid-1982, the shares were going for half the offering price. The stock did have its moment in the sun: In the 26 months prior to the 1987 crash, shares of Apple rose eight-fold.
But overall, Apple was not a hot stock. At its low point in 2003, Apple was lower than where it had been in 1983. Think about that! Twenty years of no gain, and this was well after Steve Jobs had returned.
But in 2003, Apple started one of the most amazing rallies in Wall Street history. In less than ten years, the stock jumped more than 100-fold. To be precise, Apple rose 107-fold (10,603%) in nine years and five months. That includes a brutal 60% drop during the Financial Crisis.
Apple gained back what it lost but suffered another painful correction. From September 2012 to April 2013, Apple shed 44%. That was when we heard the refrain, "Apple doesn't know how to innovate anymore." Once again, Apple made back everything it had lost.
Now here are some numbers. Measuring from the offering price 34 years ago, Apple has gained 28,412%. Annualized, that's 18.1%.
Apple's single-worst day came on September 29, 2000 when the stock plunged 51.9%. The catalyst was that Apple said they were going to miss earnings. That was also Apple's highest volume day. It traded over 1.8 billion shares that day.
Apple has suffered other big drops. On the day of the 1987 crash, Apple fell 24.4%. The stock has fallen more than 10% in a single day 26 times, which is nearly once per year.
Apple's single-best day came on August 6, 1997 when it soared 33.2%. That was the day Steve Jobs announced at a MacWorld trade show that Microsoft was investing $150 million in Apple preferred stock. That moved saved Apple. At the time, people in the crowd booed. Here's a story from the Seattle Times about the announcement.
A lot of people forget that Apple used to pay a dividend many years ago. They introduced a small quarterly dividend in 1987. Apple raised it four times, and then kept it the same for five years until it expired in 1995. Two years ago, Apple resumed paying a dividend. The current quarterly dividend is 47 cents per share which is a 120% return on the IPO price.
When Apple was founded on April 1, 1976, there were three founders; Steve Wozniak, Steve Jobs and Ronald Wayne. On April 11, Wayne sold his 10% back to the Steves for $800. Apple's current market value is $655 billion making it the most valuable company in the world.
Posted by Eddy Elfenbein on December 12th, 2014 at 9:52 am
The information in this blog post represents my own opinions and does not contain a recommendation for any particular security or investment. I or my affiliates may hold positions or other interests in securities mentioned in the Blog, please see my Disclaimer page for my full disclaimer.
Tickers: aapl
Archives