CWS Market Review – January 9, 2015
"I guess I should warn you, if I turn out to be particularly clear,
you've probably misunderstood what I've said." – Alan Greenspan
Alan, I know what you mean. Lately, the stock market has been rather difficult to make out as well. After going all of 2014 without a single four-day losing streak, the S&P 500 decided to give us a five-day losing streak this year (technically it started in 2014).
Santa Claus may have been hard at work on Christmas Eve, but the famous Santa Claus Rally was a monster no-show this year. If we narrow the Santa Claus Rally to the final five trading days of December and then add the first two of January, this was the second-worst Santa Claus Rally in the last 25 years and the third-worst in the last 65 years.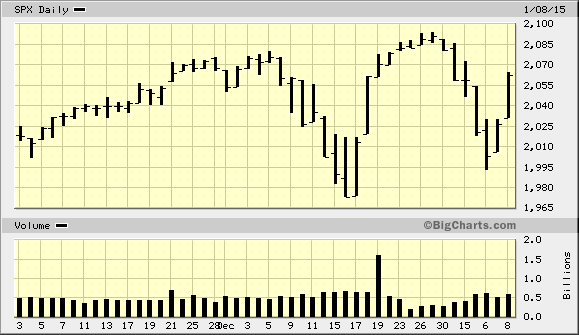 So if Santa took a breather this year, who's willing to come in and save the market? That's easy: central banks, that's who. The stock market finally turned a corner on Wednesday, thanks to positive notes from the minutes of the Federal Reserve's last meeting. Then on Thursday, the potential for more aggressive action from our friends at the European Central Bank helped power big gains for many European markets, and that spilled over into our exchanges.
Since the big bull market began nearly six years ago, the S&P 500 has fallen more than 5% on 12 separate occasions. Every single time, it's rallied back. That nearly happened again this week, but the fall wasn't that much. The big action lately hasn't been in stocks—it's been in the overseas bond pits. Bond yields in Europe have fallen to microscopic levels. It's actually getting ridiculous. Ambrose Evans-Pritchard says that bond yields in Europe are at their lowest since the Black Death.
In this week's CWS Market Review, we'll take a closer look at what's driving the ultra-low yields, and what it means for us. I'll also focus on some good news from our Buy List. Ford Motor ($F) announced a 20% dividend hike. That's a very strong signal from management. Shares of Ford now yield close to 4%. We also had a decent earnings report from Bed Bath & Beyond ($BBBY). Later on, I'll preview the upcoming earnings report from Wells Fargo ($WFC). But first, let's look at what's happening in Europe.
Europe Is Battling Deflation
Europe is currently waging war against deflation—and losing. Yields on two-year notes in France, Germany and the Netherlands are all negative. Mario Draghi, the head of the European Central Bank, has been doing his best to warn lawmakers across the Eurozone that things aren't looking good. Mostly, he's been ignored.
That may have changed this week when Germany reported that inflation there fell to a five-year low. In December, prices in Europe's largest economy fell by 0.1%. Economists were expecting an increase of 0.2%. Deflation is even worse in Spain. Consumer prices there fell by 1.1% last month. The fear is that once a deflationary spirals starts, it's hard to stop.
Sure, some of this is due to lower energy prices, but that's not all of it. The European economy is still very weak. This week, the euro fell to a nine-year low (see the chart below). The currency is now back where it was when it launched in 1999. There's even talk that the euro and dollar could soon reach parity. Could you imagine one euro equaling one dollar?
In Italy, the unemployment rate rose to 13.4% in December. That's the highest since the data series began in 1977. In Portugal, the unemployment rate is 13.9%. That's actually good compared with other countries in Europe. In Greece and Spain, about one-fourth of the workforce is unemployed. In Germany, by contrast, there are plenty of jobs. The unemployment rate in Germany is currently the lowest since reunification.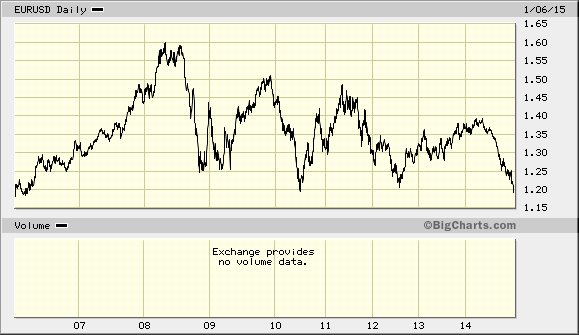 The strong dollar, combined with deflation, has sparked a mad scramble for bonds in Europe and Asia. The yield on 10-year bonds fell to 0.484% in Germany and 0.287% in Japan. For five-year notes, German yields recently went negative, and France isn't far behind. These are not the signs of a healthy economy.
But here's what's changed: The weak inflation report gives Draghi cover to take more aggressive action. Just the news that he's considering more action ignited a big rally on Thursday. Clearly, the market wants more stimulus, and I've learned that the market usually gets what it wants.
The ECB meets again in two weeks, and they're reportedly preparing a stimulus package for officials to consider. However, it's unclear what exactly Draghi wants to do. Or can do. The German Bundesbank has been dead set against any type of European QE. Germany famously had massive hyperinflation in the 1920s, and that memory still scares the wits out of any German banker. Draghi has slowly waited these guys out. He's even said that buying sovereign debt is on the table.
For the first time, the average 10-year bond yield in Germany, Japan and the U.S. has fallen below 1%. Bond yields are lower now than they were during the Great Depression. There's an old saying on Wall Street: "don't fight the Fed." That's good advice. They have more ammo than you do. I'd add that it's not a good idea to fight the ECB as well. If he's committed, I think Draghi will win his fight against deflation in Europe. His predictions have now come to pass.
Here in the U.S., the 10-year yield recently fell below 2% for the first time in 19 months. But we're currently doing much better than the rest of the world. Higher rates are coming. The futures market now says there's a 58% chance that the Fed will raise rates to at least 0.5% by September. I don't know exactly when the rate hike will come, but I think it's not too far away.
On Wednesday, the Fed released the minutes of their most recent meeting. The minutes made it clear that the Fed isn't in a hurry to raise rates. The strong dollar is already helping keep prices low. I've talked a lot about the Strong Dollar Trade, and that's still alive. This week, oil fell below $50 per barrel. At one point on Wednesday, oil dropped below $47 per barrel. It's hard to justify higher rates with prices plummeting.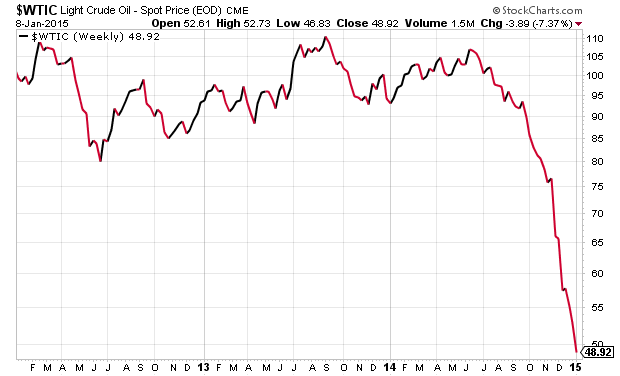 We're continuing to witness the predictable market reactions to the Strong Dollar Trade. Energy and Materials stocks are lagging. Healthcare and Consumer Staples are in the lead. Utilities are also doing well. The only notable difference is that small-caps aren't hit as hard as they had been.
As investors, how do we fight lower interest rates? Instead of chasing yields, it's much better for us to focus on strong and rising dividends. I often tell investors that dividends are easily the most important and most overlooked part of investing. Dividends tend to grow, and reinvesting those dividends gets you more shares, which begets still more dividends. The effect may be small each week, but it adds up. Consider that in the last 20 years, the S&P 500 price index is up 348%. But the Total Return Index, which includes dividends, is up 555%.
The numbers are in for the fourth quarter, and dividends paid out by companies in the S&P 500 rose by 9.96% over last year's Q4. That's actually the second-slowest growth rate in the last 16 quarters. The slowest was Q4 of 2013, which came one year after the big dividend surge in late 2012 to pay out dividends before the tax rate went up. In the last four years, dividends paid out by the S&P 500 are up more than 73%.
For the year, the S&P 500 paid out $39.44 in index-adjusted dividends. That's an increase of 12.72% over 2013. But here's what interesting: The S&P 500 price index rose 11.39% last year. In other words, dividends grew faster than prices! That means the S&P 500 ended the year with a slightly higher dividend yield than it had when the year started. Despite all the talk of a stock bubble, at least one measure of the market's valuation has moved lower.
Speaking of rising dividends, let's take a look at the big dividend hike from Ford.
Ford Raises Dividend by 20%
On Thursday, Ford Motor ($F) had great news for investors. The automaker announced that it's raising its quarterly dividend by 20%. The dividend will rise from 12.5 cents to 15 cents per share. This is the third time in three years that Ford has raised its dividend. The dividend is payable on March 2 to shareholders of record at the close of business on January 30.
This is a strong signal from Ford's management. This is especially true because Ford's earnings declined last year. We won't get the Q4 report for another three weeks, but we can already estimate that Ford's earnings fell around 30% in 2014. A few months ago, CEO Mark Fields said that Ford should make $6 billion in pre-tax earnings for 2014.
But last year was a transition year for Ford. The automaker spent a lot of time and money upgrading its plants and introducing new models. Unfortunately, there were also a few unpleasant recalls. We should start to see better results for Ford starting with the Q1 report in late April.
With the new dividend, shares of Ford now yield 3.89%. That's a good deal. Ford remains a buy up to $17 per share.
Bed Bath & Beyond Earns $1.19 for Q3
After the close on Thursday, Bed Bath & Beyond ($BBBY) reported fiscal Q3 earnings (which ends in November) of $1.23 per share. That includes four cents in non-recurring money, so let's say they earned $1.19 per share, matching Wall Street's forecast. Sales rose 2.7% to $2.94 billion, which was a little bit less than the Street was expecting.
Three months ago, BBBY gave us Q4 guidance of $1.78 to $1.83 per share. I was pleased to see them reiterate that forecast this week. The fourth quarter (December, January and February) is the holiday quarter, and that's very important for BBBY. For the full year, they see earnings ranging between $5.05 and $5.09 per share. That's up from $4.79 per share last year.
Frankly, I'm a bit concerned about BBBY's operating margins. They've always been very good, much better than those for the rest of the industry. Lately, however, they've drifted downward. I'd like to see some improvement here, but it's not yet a big problem. This stock gave us a lot of headaches last year, but I'm glad we held on. This is a good company, and BBBY went on a furious rally in the second half of the year.
On Thursday afternoon, the stock got hit in the after-hours market, so Friday may be a bad day for BBBY. That's just how the market reacts. Honestly, there wasn't a single item in this report that should have surprised anyone. It's just traders being traders. Don't let that rattle you. Bed Bath & Beyond is a buy up to $77 per share.
Earnings Preview for Wells Fargo
Q4 earnings season is set to begin next week. As usual, Wells Fargo ($WFC) leads off for our Buy List. This is quite simply the best-run big bank in America.
Wells is due to report Q4 earnings on Wednesday, January 14, before the opening bell. Wall Street currently expects earnings of $1.02 per share, which is a slight increase over the $1 per share Wells made in Q4 of 2013.
Wells has been on a terrific run, but I think their earnings growth will slow down some for the next few quarters. It's nothing they've done; it's just the tougher environment for banking that exists right now. In fact, Wells would have missed Wall Street's earnings consensus three months ago, but the bank's bottom line was helped out by some technical factors.
Wells is doing well. They're well-capitalized and their underperforming loans are getting smaller. The mortgage sector is weak, but I think that will gradually improve this year and next year. The key factor is that young home buyers are slowly returning to the market. That demographic wind should pick up for a few more years. Shares of WFC currently go for less than 13 times this year's earnings. That's a good deal. Wells Fargo remains a buy up to $57 per share.
That's all for now. Earnings season starts up next week. Several of the big banks are due to report, including our own Wells Fargo ($WFC). We're also going to get several key economic reports. Retail sales come out on Wednesday. Industrial production and CPI are on Friday. I'll be curious to see if we had more deflation last month. Be sure to keep checking the blog for daily updates. I'll have more market analysis for you in the next issue of CWS Market Review!
– Eddy
Posted by Eddy Elfenbein on January 9th, 2015 at 7:08 am
The information in this blog post represents my own opinions and does not contain a recommendation for any particular security or investment. I or my affiliates may hold positions or other interests in securities mentioned in the Blog, please see my Disclaimer page for my full disclaimer.
Archives