CWS Market Review – October 30, 2015
"The stock market is a giant distraction to the business of investing." – Jack Bogle
Earnings season rolls on. We had six more Buy List earnings reports this week, and five of them beat expectations. Both AFLAC and Fiserv jumped to new 52-week highs. Fiserv also raised its full-year guidance—the stock is now a 36% winner on the year for us. AFLAC gave us a 5.1% dividend increase. The duck stock has now raised its payout for 33 years in a row!
I'll run down our earnings reports in a bit. The market wasn't pleased with them all (like Ford), but as we all know, Wall Street can be a bit of a drama queen. That's why I have Mr. Bogle's timeless quote for this week's epigraph.
We also had a Fed meeting this week. Janet Yellen & Co. decided to hold off raising interest rates this time, but they suggested a rate hike might be coming in December. I'll break it down for you.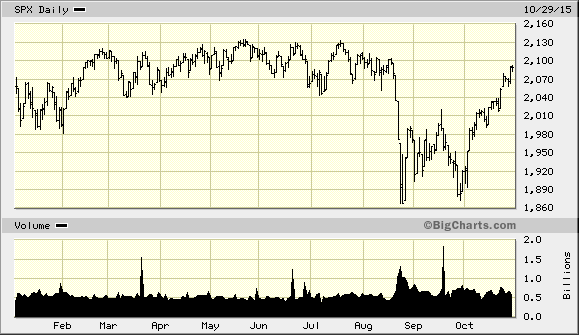 It's been nearly a month since our "All Clear" signal, and Wall Street continues to surge higher. On Thursday, the S&P 500 touched a two-month intra-day high. The S&P 500 is about to close out its best month in four years (see the chart above).
We also have two more earnings reports coming our way next week. I'll give you a preview, plus I have some new Buy Below prices. But first, let's look at what the Federal Reserve had to say.
The Fed Hints at a December Rate Hike
After sending us several signals over the summer that interest rates were about to go higher, a flurry of soggy economic data gave the Fed cold feet. I understand and, frankly, doing nothing was exactly what needed to be done.
It wasn't that long ago that Wall Street assumed the Fed would have raised rates by now. Instead, here we sit with rates close to 0%. But this week's Fed statement gave us something to consider. The Fed specifically laid out the conditions by which they would raise rates in December.
In determining whether it will be appropriate to raise the target range at its next meeting, the Committee will assess progress—both realized and expected—toward its objectives of maximum employment and 2 percent inflation. This assessment will take into account a wide range of information, including measures of labor-market conditions, indicators of inflation pressures and inflation expectations, and readings on financial and international developments. The Committee anticipates that it will be appropriate to raise the target range for the federal funds rate when it has seen some further improvement in the labor market and is reasonably confident that inflation will move back to its 2 percent objective over the medium term.
As you know, I'm well versed in the arcane and inscrutable language of Fedspeak, so I'm happy to translate. The Fed is saying that a December rate hike is on the table, but they want to see better numbers from the jobs reports. There will be two jobs reports between now and the next Fed meeting. The first one comes next Friday.
The last two jobs reports have been, to use the technical term, kinda blah. Make no mistake, the jobs issue is the key to a rate hike. Sure, the Fed also mentioned inflation, but that's hardly been an issue in recent months. Commodity prices have gotten clobbered this year.
The Fed also threw in that bit about a "wide range of information." That's a catch-all just in case something goes kablooey like the Chinese surprise devaluation did in late August when the S&P 500 lost 7% in two days (7.0009%, to be precise).
Here's my take: If the next two jobs reports average 180,000 or more net new jobs, then you can expect a rate increase later this year. The futures market currently thinks there's a 46% chance of a rate hike in December. That's far from a sure thing, but futures traders had the odds at 6% one month ago.
On Wednesday, Wall Street initially dropped after the Fed's policy statement came out. Then traders rethought things, and the market rallied to close over 2,090 for the first time since August 18. Interestingly, bank stocks were especially strong (SBNY gained 4.4% on Wednesday). We can't say for sure whether rates will go up next month, but now we know that the jobs market holds the key. That helps a lot. Now let's look at our recent earnings reports.
Ford's "Bizarre" Stock Drop
I'm a big fan of Ford Motor (F), and I'm very pleased that the company is hitting its stride. From my point of view, this week's earnings report was very good. The automaker doubled its profits from a year ago. What could be wrong with that? Well, Ford earned 45 cents per share, which missed Wall Street's consensus by two cents per share.
As a result, the stock dropped 5% on Tuesday. Even Ford's CFO said the stock's drop was "bizarre." He's right. There's nothing in Ford's earnings report that should upset investors. Sales of the F-150 rose by 8%. The truck had its third-best quarter in nine years. Ford also "blew through" its estimates for sales and cash flow (to again quote the CFO).
The reason for the earnings miss had nothing to do with Ford's business. Instead, it was Ford's estimate for its tax rate. The company had expected a tax rate of 34%. Instead it was 33%. Wall Street expected 32%. Yes, that's what the earnings miss was all about.
Ford maintained its full-year earnings forecast. It also said it expects profit margins in North America to be at the top of their range. Don't let the sell-off confuse you. Ford is doing very well. In fact, I'm raising my Buy Below on Ford to $16 per share.
33 Straight Dividend Increases for AFLAC
After the closing bell on Tuesday, we got three more earnings reports. First, AFLAC (AFL) reported Q3 operating earnings of $1.56 per share, eight cents better than estimates. Remember that with insurance companies, it's better to look at operating earnings rather then net earnings.
The weak yen continues to be an issue for AFLAC. Last quarter, the weak yen knocked off 13 cents per share from their operating profit. Quarterly revenue fell 12.1% to $5 billion. Compared with last year's Q3, operating earnings fell from $685 million to $672 million. But thanks to share buybacks, operating earnings per share rose by 3.3%. Ignoring the yen, operating earnings per share increased by 11.9%. For the first nine months of the year, operating earnings came to $4.60 per share, but AFLAC lost 40 cents due to the yen. Excluding that, operating earnings were up 2.9%.
The company has been gobbling shares at an impressive rate. So far this year, AFLAC has repurchased 17.4 million shares for $1.1 billion, and it still has 52.1 million shares left under the current buyback plan.
The board approved raising the quarterly dividend from 39 to 41 cents per share. That comes to $1.64 per share for the year, or 2.5%, based on Thursday's closing price. There aren't many companies that have raised their dividend every year for one-third of a century.
Now let's look at the guidance. AFLAC said that if the yen stays between 120 and 125 on the dollar, then they expect Q4 operating earnings to range between $1.36 and $1.56 per share. That translates to a full-year range of $5.96 to $6.16 per share.
My view is that AFLAC is an excellent company, but it's operating in a very difficult environment. Yields are low and the yen is weak, but the business remains very healthy. I like this report. The stock is up 25% from its August low. This week, I'm raising our Buy Below on AFLAC to $67 per share.
Fiserv Is a Buy up to $103 per Share
Also on Tuesday, Fiserv (FISV) reported third-quarter earnings of $1.03 per share. That beat estimates by six cents per share, and it's up from 86 cents per share one year ago. Fiserv is probably one of the most consistently superior stocks you'll ever find. It's been on our Buy List every year for the last ten years, and it's been a home run for us. Check out this ten-year chart: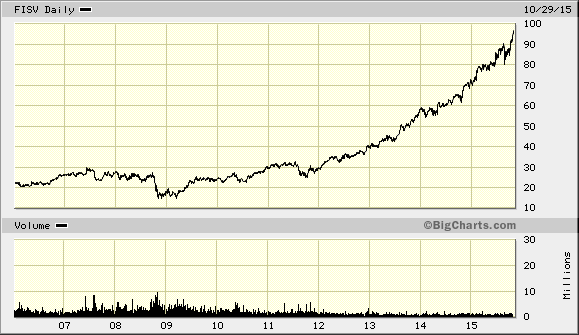 For the first nine months of the year, Fiserv has made $2.86 per share. That's up from $2.48 per share last year. Fiserv also raised its full-year guidance. The old range was $3.73 to $3.83 per share, and the new range is $3.84 to $3.87 per share. The new range implies Q4 earnings of 98 cents to $1.01 per share.
On Wednesday, FISV jumped as high as $97.42. It's now a 36.3% winner on the year for us. I'm raising our Buy Below on Fiserv to $103 per share.
The other Tuesday report was from Express Scripts (ESRX). The company reported third-quarter earnings of $1.45 per share which was one penny better than estimates. The pharmacy-benefits manager also narrowed its full range. Previously, it was $5.46 to $5.54 per share. Now it's $5.51 to $5.55 per share. Last year, ESRX made $4.88 per share.
Since ESRX has already earned $3.97 per share for the first three quarters of this year (up from $3.50 per share last year), the new guidance implies Q4 earnings of $1.54 to $1.58 per share.
Perhaps the bigger news for Express this week was that Walgreens (WBA) said it's buying Rite Aid (RAD) for $17.2 billion (all cash). Shares of ESRX dipped because it wasn't them. That's probably more of a blessing than a curse. Express Scripts remains a buy up to $92 per share.
Earnings from PayPal and Ball Corp.
In last week's issue, I told you I expected an earnings beat from PayPal (PYPL), and that's exactly what we got. After the closing bell on Wednesday, PayPal reported Q3 earnings of 31 cents per share which was two cents better than estimates. This is their first report after detaching themselves from eBay (EBAY).
For the full year, the payment-processing place said it expects earnings to range between $1.23 and $1.27 per share. That sounds pretty good to me. Wall Street had been expecting $1.25 per share.
In the after-hours session, the shares went from being up 4% to down by 5%. This is a good reminder not to be overly concerned with after-hours moves (remember that Bogle quote). The shares closed down 1.7% on Thursday. I'm raising the Buy Below on PayPal to $38 per share.
On Thursday morning, Ball Corp. (BLL) reported Q3 earnings of $1.10 per share. That topped estimates by 15 cents per share. That's a hefty earnings beat. Revenues, however, fell 6.3% to $2.1 billion. It's not just AFLAC; Ball got dinged by 11 cents per share thanks to currency.
Importantly, Ball said the merger with Rexam is going as expected. They hope to close the deal in the first half of next year. I'm raising my Buy Below on Ball to $70 per share.
Two More Buy List Reports Next Week
We have our final two Buy List reports coming next week. Both Qualcomm (QCOM) and Cognizant Technology Solutions (CTSH) are due to report on Wednesday, November 4.
Three months ago, Cognizant tore the roof off with its Q2 earnings report. The IT outsourcer beat its own earnings target by seven cents per share, and quarterly revenue rose by 22.6%.
Cognizant also raised its full-year guidance from earnings of at least $2.93 per share to earnings of at least $3 per share. (CTSH is big fan of using "at least" with its forecasts.) For Q3, they expect earnings of at least 75 cents per share on revenue or at least $3.14 billion. Guess what? They'll beat both numbers.
I won't mince words: Qualcomm has been a lousy stock for us this year. It's our second-worst performer, with a 19.3% loss. For this earnings report, the chip maker said to expect earnings between 75 and 95 cents per share. Frankly, I'm not expecting much. Some activist shareholders have been pressing Qualcomm to split itself up. I think that's a good idea. The only thing I can say in QCOM's favor is that it's not terribly expensive, and the shares have bounced recently.
I also want to touch on Moog (MOG-A) which is due to report later today. I had been quite negative on the stock earlier this year, but I'm starting to reconsider. It's true: Moog's had a rough year, but I think that's mostly behind them. We'll get a better sense in this earnings report. I'm not going to change the Buy Below yet on Moog, but I probably will once I see the earnings report. This is one to watch.
That's all for now. We have a few more earnings reports next week. We'll also get some of the key turn-of-the-month economic reports. The ISM Index comes out on Monday. The last few reports have been weak. Auto sales are on Tuesday. Ford has been putting out solid numbers here. The ADP jobs report is on Wednesday. Then on Friday is the big October jobs report. The recent Fed statement puts this report at center stage. Be sure to keep checking the blog for daily updates. I'll have more market analysis for you in the next issue of CWS Market Review!
– Eddy
Posted by Eddy Elfenbein on October 30th, 2015 at 7:08 am
The information in this blog post represents my own opinions and does not contain a recommendation for any particular security or investment. I or my affiliates may hold positions or other interests in securities mentioned in the Blog, please see my Disclaimer page for my full disclaimer.
Archives