CWS Market Review – November 4, 2017
"Necessity never made a good bargain." – Charlie Munger
Earlier this week, I was at the Evidence-Based Investing Conference sponsored by Ritholtz Wealth Management. The conference was a lot of fun, and I got to see many great speakers (see here and here for recaps). Unfortunately, my busy travel schedule forced me to write this week's newsletter a bit later than usual. That actually worked to my advantage, since this was an action-packed week for Wall Street and for us.
There's a lot to get to, so let's start with Jay Powell. President Trump has nominated Mr. Powell to be the new Federal Reserve Chairman. I don't have much to say about Powell except that he's very much a part of the establishment. I doubt an observer would be able to notice any difference between a Powell- or Yellen-led Fed.
This may be a shrewd choice on President Trump's part because Powell is a registered Republican who was nominated by President Obama—twice, in fact. This is Mr. Powell's third nomination in the last five years (note that the nomination to Fed chairman is separate from being a Fed member). I doubt he'll have much trouble winning confirmation in the Senate. I also except to see a continuation of the Fed's current policies. Wall Street seems pleased.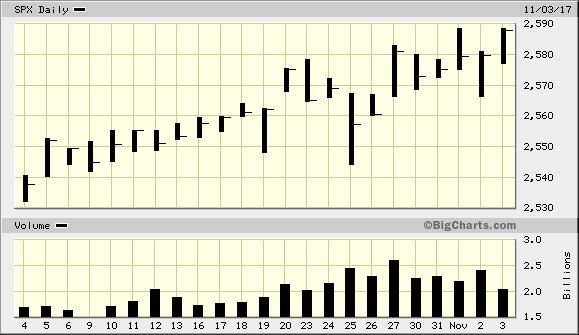 We got a good jobs report on Friday. The unemployment rate fell to 4.1% which is the lowest in nearly 17 years. Nonfarm payrolls rose by 261,000. Some of these figures were still impacted by the severe weather we had. The bad news is that wages dipped slightly last month. This is another reason why I'm not terribly concerned about inflation.
The Federal Reserve met this week. As expected, the central bank didn't raise interest rates. However, it's widely believed that another rate hike is coming next month. The weak wages last month won't change their mind. I don't see the need for higher rates, but I can't say they'll be very damaging. At least, not yet.
This week, the Conference Board said that consumer confidence was at its highest in 17 years. Last Friday, the government said that the U.S. economy grew by 3% in the third quarter. That's a good number, and it comes after a decent number for Q2, but I'm not ready to celebrate. The current expansion has had a difficult time stringing together three quarters in a row of decent growth. We seem to be stuck on a 2% trend. I hope this time will be different.
Now let's get to our Buy List stocks.
Axalta Soars on Merger Talks
The biggest news for us, by far, came last Friday when Akzo Nobel, a Dutch company, was reported to be in merger talks with Axalta Coating Systems (AXTA).
Let me stress that there's no deal yet, nor is there a guarantee that a deal will come. But we do know that both companies are discussing the topic. Last Friday, shares of AXTA soared as much as 21%. The stock has recently settled around $33 per share.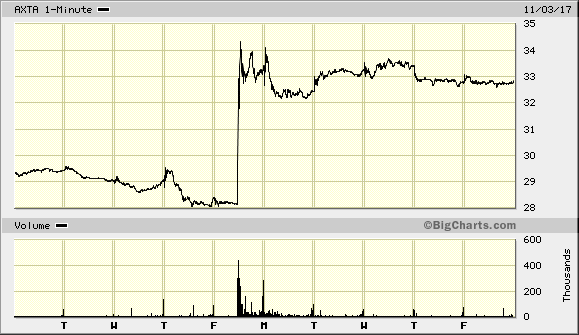 This is good news for us, but let's recall some recent history. Earlier this year, shares of AXTA got a bump after Akzo Nobel shot down a buyout offer from PPG. The thinking was that PPG might next turn to Axalta. Instead, the suitor was Akzo Nobel.
Please bear in mind that this could fall apart at any moment. Investors should never bet on buyout deals. They're nice when they happen (like with CR Bard), but a lot things can go wrong. For now, let's stick with Axalta and see what happens.
Fiserv Misses Earnings Again
On Tuesday, we got an earnings miss from Fiserv (FISV). The company reported Q3 earnings of $1.27 per share, which was four cents below Wall Street's estimate. This is their second miss in a row.
"Fiserv continued to execute well, delivering double-digit adjusted-earnings-per-share growth despite pressure from lower periodic revenue in the quarter," said Jeffery Yabuki, President and Chief Executive Officer of Fiserv. "Sales were solid in the quarter, providing momentum for a strong close to the year."
The miss is unpleasant, but the more important news is that Fiserv narrowed its full-year guidance from $5.03 to $5.17 per share to $5.05 to $5.12. That represents growth of 14% to 16% over last year. That means Q4 earnings should range between $1.34 and $1.41. That's not so bad. Wall Street had been expecting $1.36 per share.
Shares of Fiserv dropped sharply at Wednesday's open. FISV came close to falling below $120 per share, but the stock regained its composure later in the week and closed Friday at $127.03 per share. This is a good stock. Fiserv remains a buy up to $131 per share.
Earnings Beats from Cognizant and Ingredion
We got two more Buy List earnings reports on Wednesday. First up, Cognizant Technology Solutions (CTSH) reported Q3 earnings of 98 cents per share. Previously, the company had told us to expect Q3 earnings of at least 95 cents per share.
CTSH also raised its full-year guidance from at least $3.67 per share to at least $3.70 per share. Now the bad news. That implies Q4 earnings of 95 cents per share, which is below the 98 cents Wall Street had been expecting. On the revenue side, Cognizant expects revenues between $3.79 billion and $3.85 billion. Wall Street had been expecting $3.76 billion.
Traders sent the stock down 7% Wednesday morning, but as with Fiserv, the selling was quickly reversed and the shares only suffered a minor hit. In fact, CTSH closed Friday two cents per share above its closing price from seven trading days before.
I'm not concerned about this report. CTSH's numbers are fine. Cognizant Technology Solutions remains a buy up to $74 per share.
For Q3, Ingredion (INGR) reported earnings of $2.21 per share. That beat the Street by 19 cents, and it was a nice increase over $1.96 per share from a year ago. The company raised the low end of its full-year guidance by 15 cents per share. Ingredion now expects 2017 earnings of $7.65 to $7.80 per share. That implies Q4 earnings of $1.67 to $1.82 per share.
This has been a tough year for Ingredion, so it's nice to see some good news. The shares are up 3.7% in the last three days. This week, I'm lifting our Buy Below on Ingredion to $134 per share.
BDX and ICE Beat the Street
Becton, Dickinson (BDX) isn't a Buy List member, but it may be one soon after the merger with CR Bard (BCR) is complete. This week, the medical-device manufacturer reported fiscal Q4 earnings of $2.40 per share, two cents above expectations.
For the year, BDX made $9.48 per share. For the current fiscal year, which ends next September, Becton, Dickinson expects earnings between $10.55 and $10.65 per share. Wall Street had been expecting $10.46 per share.
Shares of BDX jumped 7.7% on Thursday which helped BCR edge up 2.7%. Remember that the deal is in cash and stock, so any rise in BDX helps BCR. The merger should happen before the end of the year.
Also on Thursday, Intercontinental Exchange (ICE) reported earnings of 73 cents per share. That beat the Street by three cents per share. The company also approved a new share-buyback program of $1.2 billion. The stock gained 3.7% on Thursday.
Unfortunately, on Friday, the company reported light trading numbers for October. That caused the stock to give back nearly all of Thursday's gain Don't worry about it. ICE is still a buy up to $66 per share.
Friday's Earnings from Cinemark and Moody's
On Friday morning, Moody's (MCO) said they made $1.52 per share for Q3. That beat Wall Street's estimate of $1.41 per share.
"Moody's strong third-quarter financial results were driven by record revenue in Moody's Investors Service, with corporate and structured finance contributing the largest gains, double-digit organic revenue growth in Moody's Analytics, and the addition of Bureau van Dijk," said Raymond McDaniel, President and Chief Executive Officer of Moody's.
Moody's shelled out a lot to get Bureau van Dijk, a Belgian data provider. The company expects the acquisition to help boost earnings soon.
Moody's also increased its full-year range to $5.85 to $6 per share. This is the second time Moody's has raised its full-year guidance. This means the company expects Q4 earnings of $1.28 to $1.43 per share. Wall Street had been expecting $1.38 per share. Shares of Moody's gained almost 2% on Friday. The stock is now our biggest winner YTD, with a gain of 55%.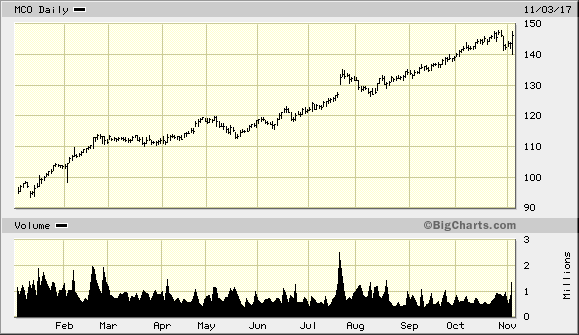 The poor box-office environment was bad news for Cinemark (CNK), but the company is managing it as well as can be expected. The movie-theater chain earned 33 cents per share for Q3. That's a miss of two cents per share, and it's down from 56 cents per share for last year's Q3. The good news is that CNK continues to gain market share. So it was a tough quarter, but it was even worse for other theaters.
The stock pulled back 2.3% in Friday's trading. I'm lowering my Buy Below price on Cinemark to $38 per share.
Next Week's Earnings Report and New Buy Below Prices
Next Thursday, Continental Building Products (CBPX) will issue our final Buy List earnings report of this cycle. The stock has been in a nice uptrend since the summer even though they missed earnings in August. The consensus for Q3 is for 29 cents per share.
Lastly, I want to lift my Buy Below prices on two other stocks. I'm raising Stryker's (SYK) to $165 per share and Danaher's (DHR) to $99 per share. Both stocks had very good earnings this season.
That's all for now. Next week probably won't be as action-packed as this week. I expect President Trump's tax plan will get most of the coverage. We still have more earnings reports to hear. Tuesday is Election Day though it's mostly minor races since this is an off year. Also on Tuesday, we'll get the consumer credit report. On Thursday, we'll see the latest jobless claims report. This series recently touched a multi-decade low. Be sure to keep checking the blog for daily updates. I'll have more market analysis for you in the next issue of CWS Market Review!
– Eddy
Posted by Eddy Elfenbein on November 4th, 2017 at 9:07 pm
The information in this blog post represents my own opinions and does not contain a recommendation for any particular security or investment. I or my affiliates may hold positions or other interests in securities mentioned in the Blog, please see my Disclaimer page for my full disclaimer.
Archives