CWS Market Review – December 22, 2017
Ladies and gentlemen, here are the 25 stocks for the 2018 Crossing Wall Street Buy List:
AFLAC (AFL)
Alliance Data Systems (ADS)
Carriage Services (CSV)
Cerner (CERN)
Check Point Software Technologies (CHKP)
Church & Dwight (CHD)
Continental Building Products (CBPX)
Cognizant Technology Solutions (CTSH)
CR Bard (BCR) soon to be Becton, Dickinson (BDX)
Danaher (DHR)
FactSet Research Systems (FDS)
Fiserv (FISV)
Hormel Foods (HRL)
Ingredion (INGR)
Intercontinental Exchange (ICE)
Moody's (MCO)
Ross Stores (ROST)
RPM International (RPM)
Sherwin-Williams (SHW)
Signature Bank (SBNY)
JM Smucker (SJM)
Snap-on (SNA)
Stryker (SYK)
Torchmark (TMK)
Wabtec (WAB)
The five new stocks are Carriage Services (CSV), Check Point Software Technologies (CHKP), Church & Dwight (CHD), FactSet Research Systems (FDS) and Torchmark (TMK).
I'll have more details on the new buys in next week's issue.
The five sells are Axalta Coating Systems (AXTA), Cinemark Holdings (CNK), Express Scripts (ESRX), HEICO (HEI) and Microsoft (MSFT).
To recap, I assume the Buy List is equally weighted among the 25 stocks. The buy price for each stock will be the closing price on Friday, December 29, 2017. The new Buy List goes into effect on Tuesday, January 2, 2018, the first day of trading of the new year.
The Buy List is now locked and sealed, and I won't be able to make any changes for the entire year. I'll have a complete recap of 2017 in next week's issue. I'll also have more to say about our new buys, and I'll give you new Buy Below prices.
With a week to go, we're running neck-and-neck with the S&P 500. Through Thursday, our Buy List is up 20.75% for the year compared with 19.91% for the S&P 500. Including dividends, which is what counts, our Buy List is up 21.96% which is a tad below the S&P 500's total return of 22.29%. We still have a few more days to catch up.
I want to add a few points about this year's market. One is that had Axalta taken the $37-per-share offer from Nippon Paint, then we'd be in a better position today (about 0.7% for the entire portfolio). Also, the market this year has been distorted due to the surge in large-cap tech stocks. Apple, Amazon and Facebook are all up more than 50% this year. As a result, the median performer in the S&P 500 this year trails the overall index by more than 3%. That's not normal, and it makes it more difficult to beat the overall market.
Our 12-year track record against the market is still quite good. I'll have complete details in next week's issue.
Our Five Sells
Let me add a few words on the sells. My belief is that each new buy should last a few years. I turn against a stock when it turns out to be something quite different from what I originally believed, or if the share price is just too high.
Axalta Coating Systems (AXTA) is a tough one to sell because I still think my original thesis was correct. However, it was a big mistake for them to shoot down the offer from Nippon Paint. According to some sources, the offer was for $37 per share. They should have taken it. They got greedy and lost out.
Cinemark Holdings (CNK) was a mistake. My bad. I don't think I fully realized how much the business is at the mercy of the film industry. If there's nothing pulling in moviegoers, then their business will suffer. There's not much you can do. The last two earnings reports were not encouraging.
It's probably not a surprise that I'm ditching Express Scripts (ESRX). This has been such a good business for so long, but the game is changing for them. The loss of Anthem didn't help. At least we're getting out after an impressive rebound since October. I suspect they'll be bought out sometime in 2018.
HEICO (HEI) may be the toughest one for me to sell. I like this company a lot, and it's been a big winner for us. This one just comes down to math. HEICO is simply too expensive. The shares are going for 44 times the fiscal year, which ended in October (I'll summarize the earnings report in a bit). If the company grows its earnings by 12% for the next two years, which is very reasonable, and the stock stays the exact same, then it's still expensive. HEICO doubled for us in two years.
Microsoft (MSFT) is similar to HEICO. I like the company a lot, and they've done a great job in turning the ship around. We also got lucky because the market favored big-cap techs this year. We added Microsoft to the Buy List five years ago. At the time, MSFT was going for $26.71. Today, it's at $85.50. Thank you, Satya!
Strong Earnings Finale from HEICO
Even though we're getting rid of HEICO next year, I wanted to cover their earnings report this week. After Monday's closing bell, HEICO (HEI) reported fiscal-Q4 earnings of 62 cents per share. That's up from 52 cents per share in last year's Q4. HEICO doesn't give per-share guidance, but I ballparked theirs at 55 to 59 cents per share. The consensus on Wall Street was for 57 cents per share, so this was a very good quarter for HEICO.
For the fiscal year, HEICO made $2.14 per share which is up from $1.83 per share last year. Quarterly sales rose 18% to $421.2 million. Operating margin increased to 21.2%.
Laurans A. Mendelson, HEICO's Chairman and CEO, said:
HEICO's record fiscal 2017 fourth quarter and full-year results were principally driven by continued organic growth, exemplary execution by our subsidiaries and the acquisition of profitable, well-managed businesses within both our Electronic Technologies Group and Flight Support Group.
(…)
As we look ahead to fiscal 2018, we anticipate net sales growth within the Flight Support Group's commercial-aviation and defense-product lines. We also expect growth within the Electronic Technologies Group, principally driven by demand for the majority of our products. During fiscal 2018, we will continue our commitments to developing new products and services, further market penetration, and an aggressive acquisition strategy while maintaining our financial strength and flexibility.

Based on our current economic visibility, we are estimating 10% – 12% growth in full-year net sales and in full-year net income over fiscal 2017 levels. We anticipate our fiscal-year 2018 consolidated operating margin to approximate 20%, depreciation and amortization expenses of approximately $75 million, capital expenditures to approximate $50 million and cash flow from operations to approximate $290 million. These estimates exclude the impact of any pending tax reforms that are currently being legislated in Congress. Furthermore, these estimates exclude additional acquired businesses, if any.
Through Thursday, HEICO is up 53.18% YTD for us. That trails only Moody's. I really like HEICO, but I don't see much upside from here.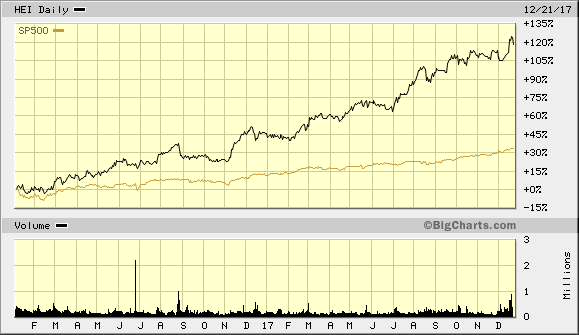 Before I go, a heads-up that RPM International (RPM) will release its fiscal Q2 earnings report on January 4. I'll have more to say about this next week. Wall Street expects 59 cents per share.
That's all for now. The stock market will be closed on Monday, December 25 for Christmas. Trading resumes on Tuesday, and the final day of trading for 2017 will be on Friday, December 29. The next issue of CWS Market Review will be on Sunday, December 31. I'll have a complete summary of how we did in 2017, plus I'll list the starting prices for 2018. Be sure to keep checking the blog for daily updates. I'll have more market analysis for you in the next issue of CWS Market Review!
– Eddy
P.S. Shareholders of my AdvisorShares Focused Equity ETF (CWS) should have received proxy voting materials in mid-November. For many shareholders, proxy materials are available online through the brokerage firm where the account is located.
It is very important to record your vote. As noted in the materials, the Board of Trustees recommends voting "For" each proposal. For assistance, or to have your votes quickly accepted by phone, please call Alliance Shareholder Communications at 855-973-0090. You may also call the team at AdvisorShares at 877-843-3831 if you have additional questions.
Posted by Eddy Elfenbein on December 22nd, 2017 at 7:08 am
The information in this blog post represents my own opinions and does not contain a recommendation for any particular security or investment. I or my affiliates may hold positions or other interests in securities mentioned in the Blog, please see my Disclaimer page for my full disclaimer.
Archives